smooth returns for
fashion webshops

.
If your webshop sells clothing & fashion, then you might run into specific issues regarding your returns. Such as exchanges and in-store returns. With Returnless you are able to digitize and automate your returns, and manage a custom return process fitted to your needs.
Here's why a 'label in the box' doesn't cut it anymore.
return challenges.
Omnichannel

Exchanges

Return costs

Analytics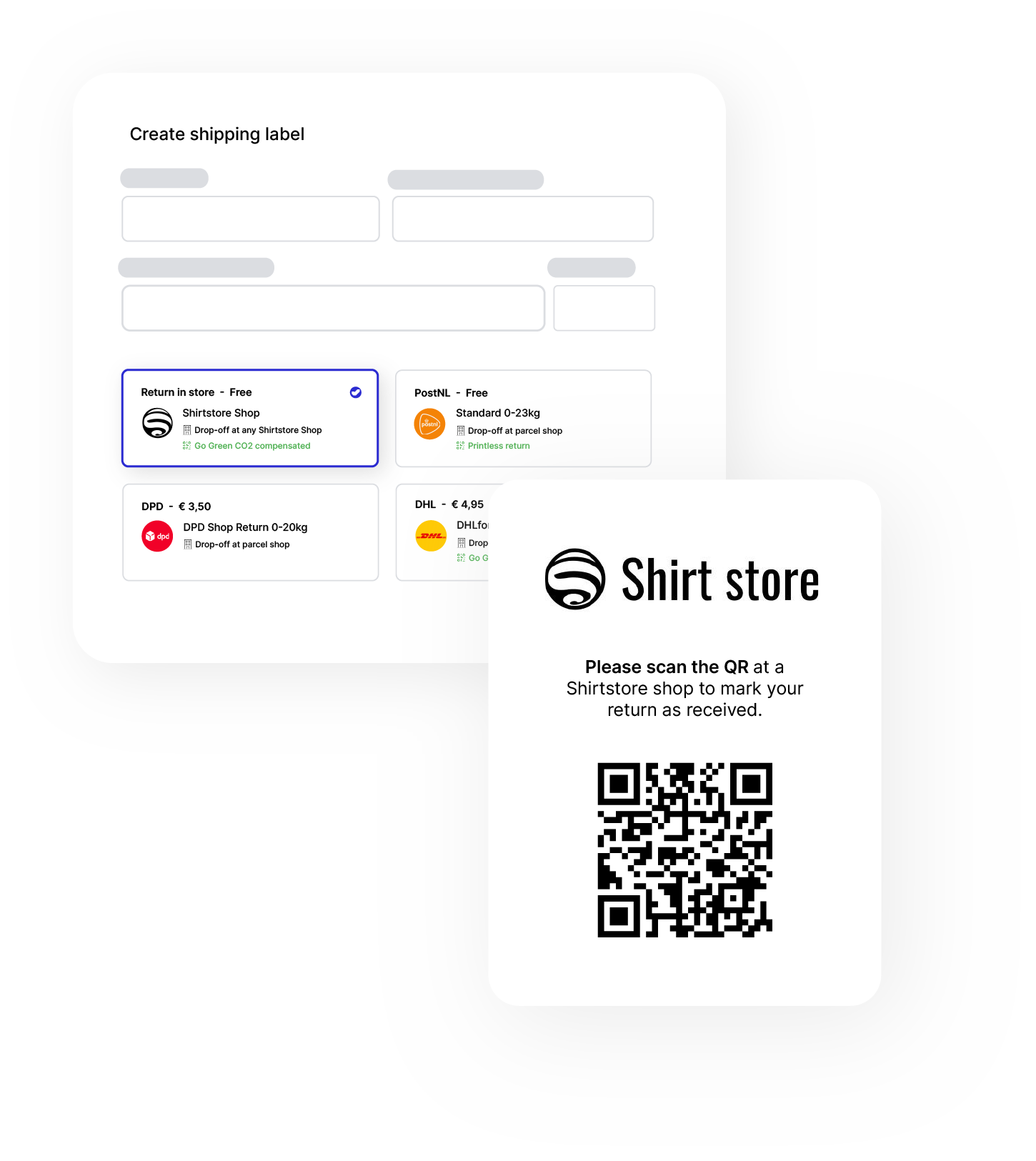 Provide in-store returns within one single return process.
Do you own a physical store besides your webshop? Then you're probably still using two separate return processes for each. That can be very confusing for you and your customers.

With Returnless you have the option to add physical stores as return options. Instead of shipping via a carrier your customers can choose to return the item via one of your stores near them instead. This way you centralize the entire return process into one single and easy to follow process. Making it easy for you and for your customers as well.
Tip! Make in-store returns a free option, this way you stimulate your customers to visit your store and reduce your shipping costs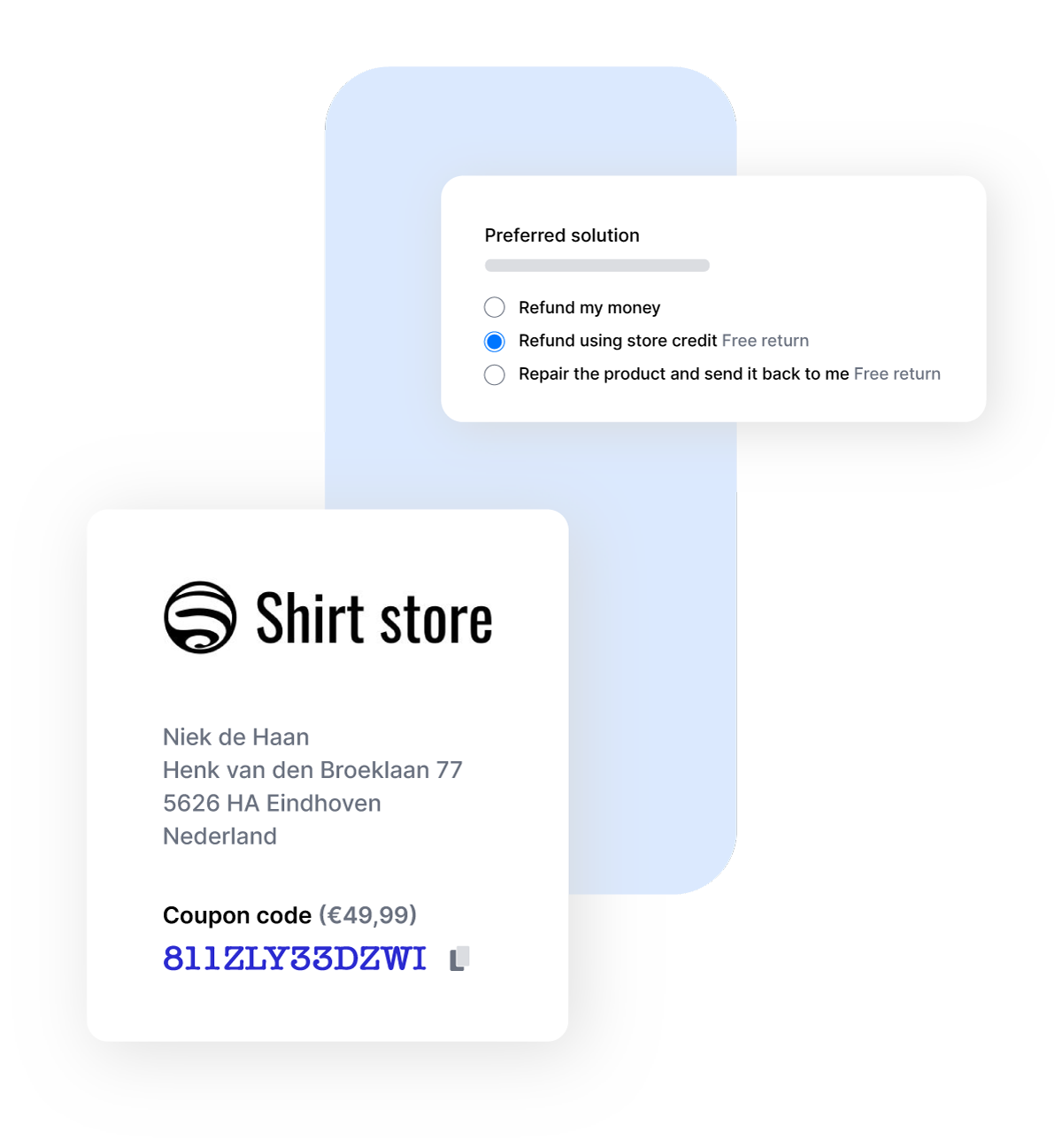 Effortlessly offer and process exchanges with coupons.
Exchanging an item is an awesome option for revenue retention in your return policy. But if you're managing a dated return process then there's a good chance that you lose lots of time handling and processing exchanges. What you should consider:
Stock management: Your customers might like a different size, color, or a different item all together. How do you manage a universal process when the outcome is never the same. And how do you update your stock?
Shipping: When are you planning on shipping the exchanged item? Probably once the initial order has been received. Good chance your customers have to wait for a longer time than when they simply place a new order.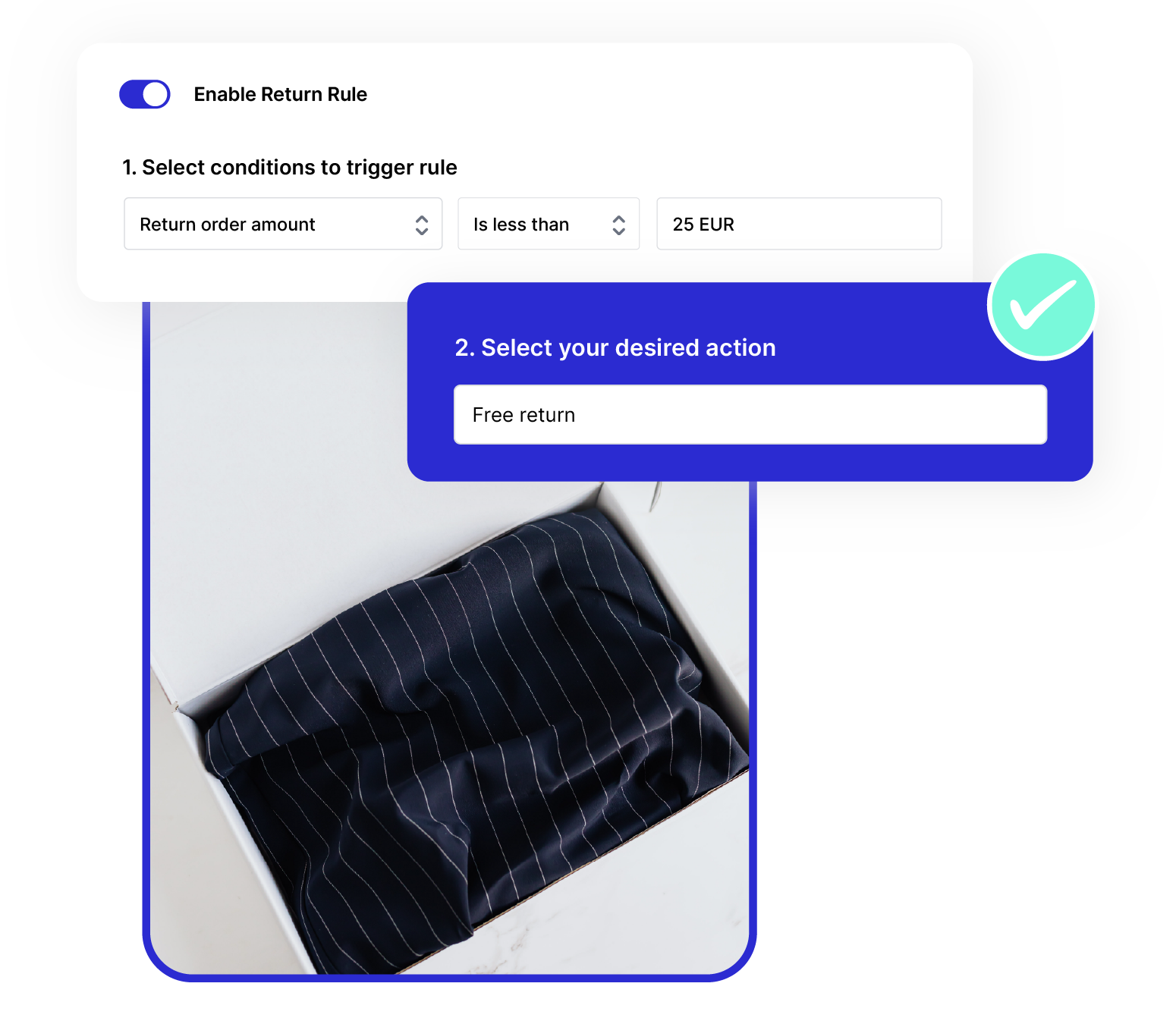 Get smart with what you charge for returns with Return Rules.
Free returns can be a nice policy for your customers but unfortunately they can become costly very quickly when you use this without limit. Especially for fashion webshops since they have the highest return percentage. Get smart with when and when you are not giving out free returns.
We advise to offer free returns in certain circumstances, such as:
Damaged products
Amount returned is lower than X
Loyal customers
Exchanges
Domestic returns
With our Return Rules you automatically decide when free returns should be applied and when they should be paid.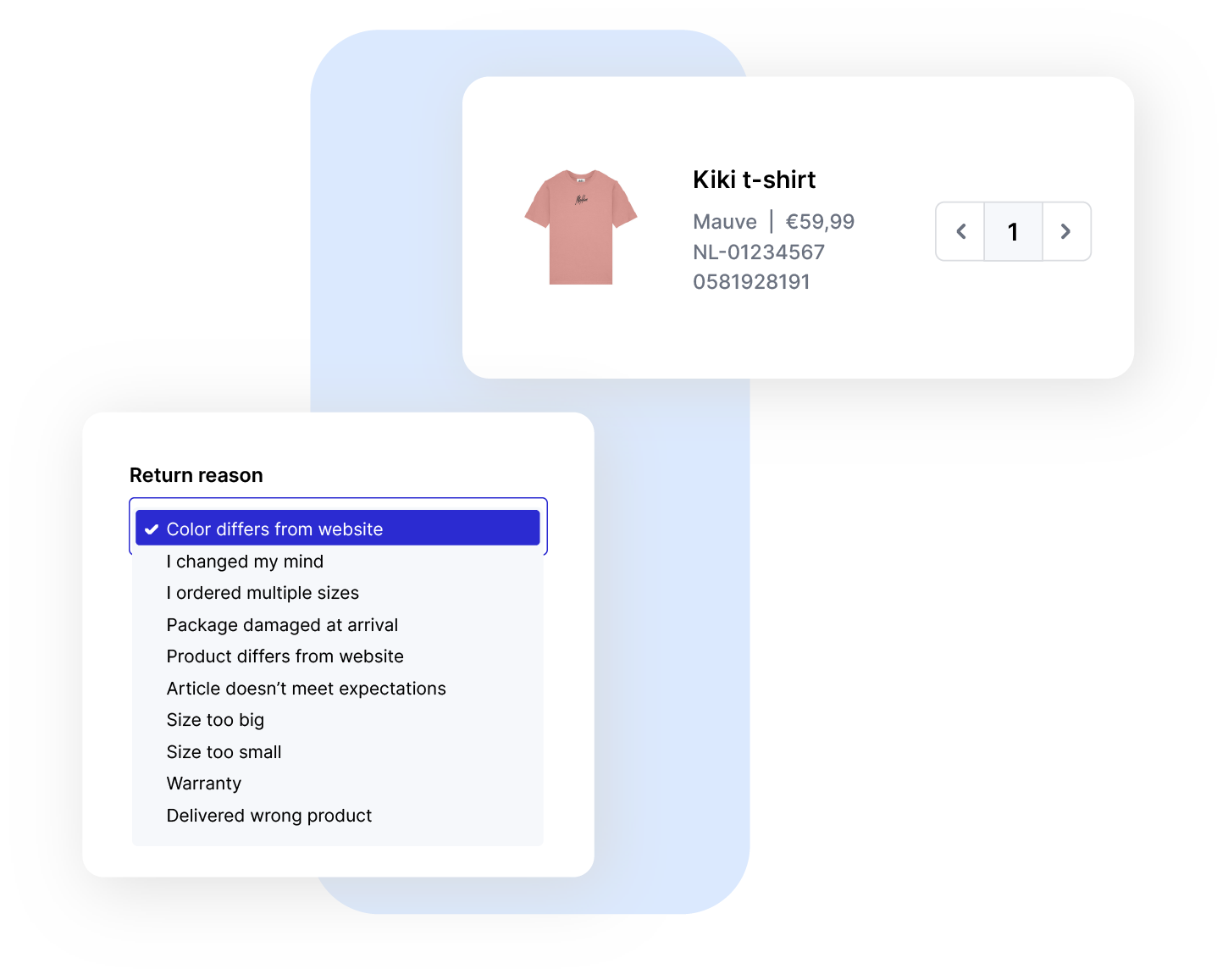 Discover the pain points in your assortment with return analytics.
Return data can be a valuable asset for optimizing your assortment. If a product is frequently returned because it is 'too small', you can steer your purchasing or marketing department accordingly. There are countless ways to use data intelligently, like analyzing:
Most returned products
Most common return reasons
Most chosen carrier
Most chosen payment method
Travelbags managed to reduce their return rate by 14% with their return insights. Get inspiration from our various customer cases and their success stories.
our key features.
These are our most popular features from our
customers in your industry.
smart return form.
100% customizable & on-brand.
Customer friendly experience. With the smart return form, customers can independently create a return label and choose their favorite return method from your own selection. The process is very easy to follow, making up for fewer customer service questions.
Custom branding. The return form is set-up in your webshops branding, including your logo and a custom header image.
Custom fields. To ensure that you receive all the correct return information you need to process returns smoothly, you are free to edit form fields entirely including making custom fields, drop-downs, checkboxes & photo uploads.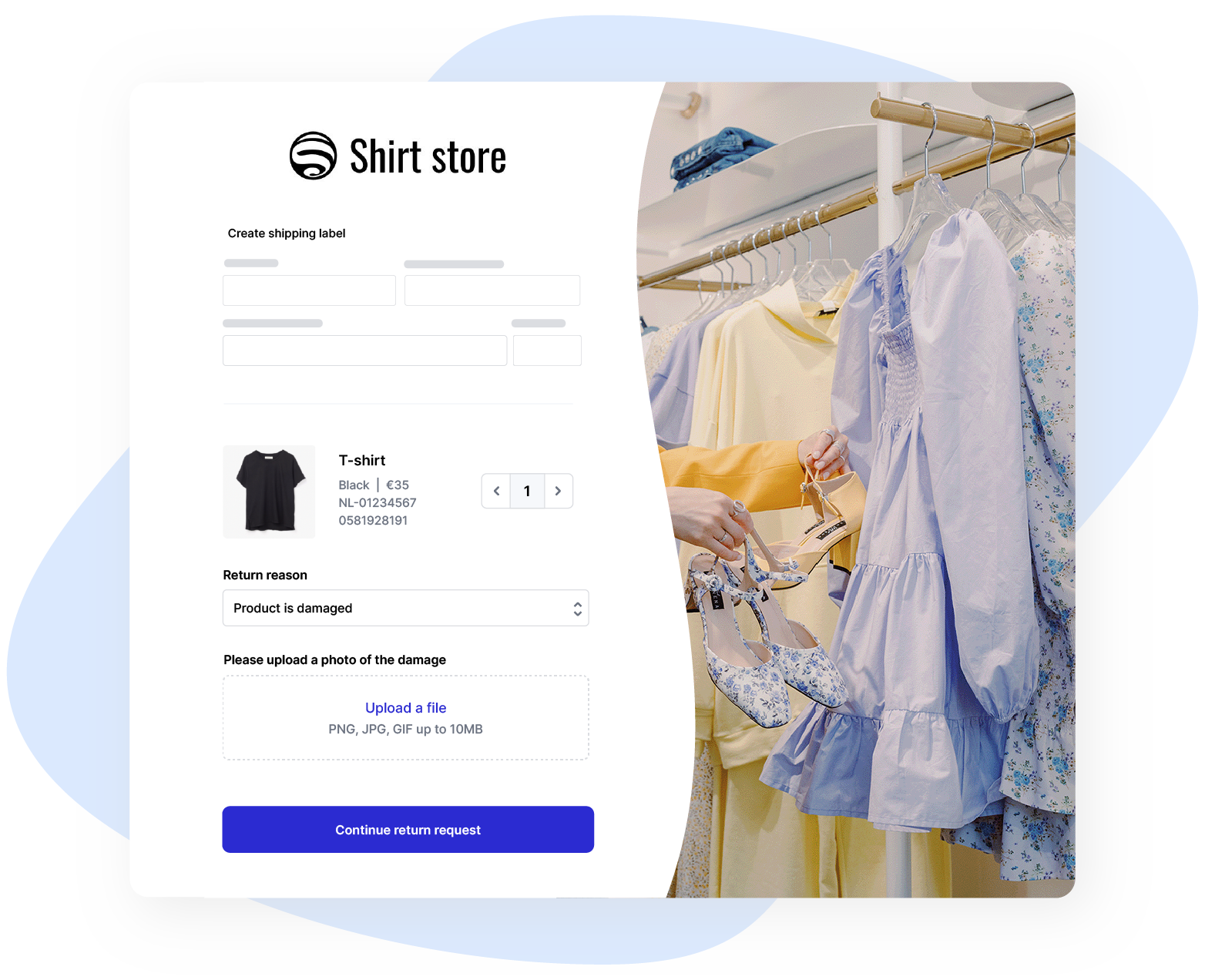 "Consolidate all types of returns into one single process for a smooth & easy to follow experience."
One single overarching process for all types of returns.
Dynamic follow-up questions. We can imagine your follow-up questions will differ per product type. With the smart return form you have the possibility to ask different follow-up questions on a specific SKU-level. Giving you more insight into the core reasons for your returns per product type. But also allows you to add return instructions for specific products, such as support articles and instructions for tech products.
Offer exchanges with store credit. In our return form you can offer your customer store credit via an automatically generated coupon code instead of a refund, making it more likely for your customer to return to your store and make a new purchase.
automation via return rules.
Automate your return policy and avoid unnecessary costs.
With our Return Rules you can easily set-up your own automation flows. Allowing you to process returns faster and decide next steps automatically. Return Rules can lead to the following outcomes:
Approve return
Approve without shipment
Free return
Reject return
Curious to see which Return Rules might apply to your shop? Review some examples below!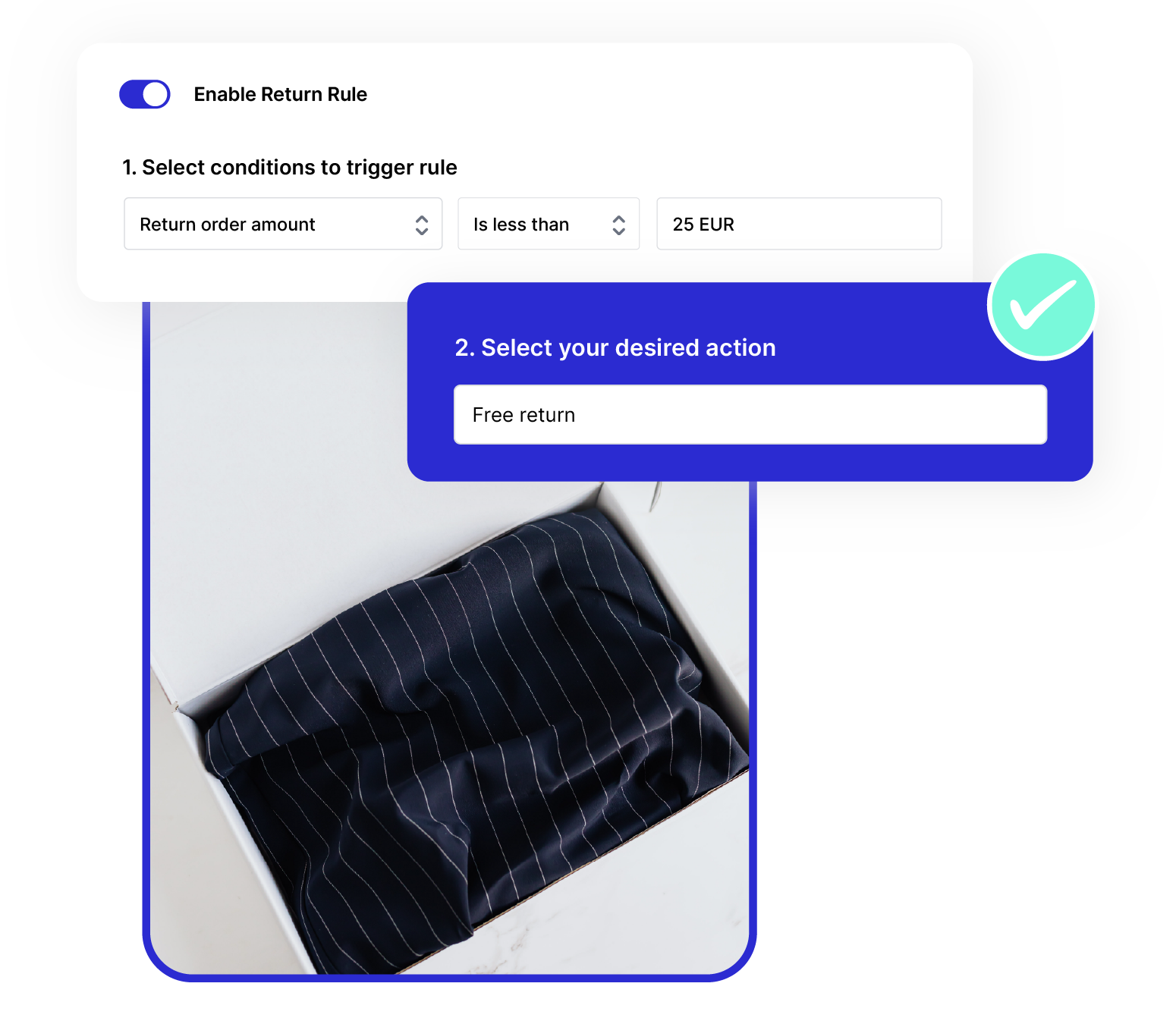 "You can save a lot of time by automating your return process. All you need is the right rules & conditions."
Our most popular Return Rules for fashion webshops.
We can imagine you do not have any idea how to get started with automating your returns but don't worry, we got you!
Do any of the conditions below apply to you?
You (want to) offer paid

and

free returns
You'll often receive returns where the product has been worn
Then we might be able to save you lots of time with our Return Rules. Look right to see examples of our most popular Return Rules for webshops in fashion.
DAMAGED ITEMS
SITUATION
In your return policy you have a mix of free and paid return conditions. Normally you have a fee for returns but in some cases you want to offer your customers free returns, such as when an item is damaged.
RETURN RULE
Selected return reason is 'Product damaged'
Selected action: 'Free return'
OUTCOME
The customer can return the item free of charge as a concession for the item being damaged.
RETURN PERIOD EXPIRED
SITUATION
In your return policy you operate a 30 day return period. Once the 30 day deadline has passed, returns need to be rejected.
RETURN RULE
Selected condition: 'Order age is greater than 30 days'.
Selected action: 'Reject'
OUTCOME
All returns outside of the 30 day return period are rejected automatically.
LOYAL CUSTOMERS
SITUATION
In your return policy you have a mix of free and paid return conditions. Normally you have a fee for returns but in some cases you want to offer your customers free returns, such as with loyal customers who don't return often.
RETURN RULE
Selected condition is 'Amount of customers returns is less than 2'
Selected action: 'Free return'
OUTCOME
The customer can return the item free of charge as a concession for not returning often.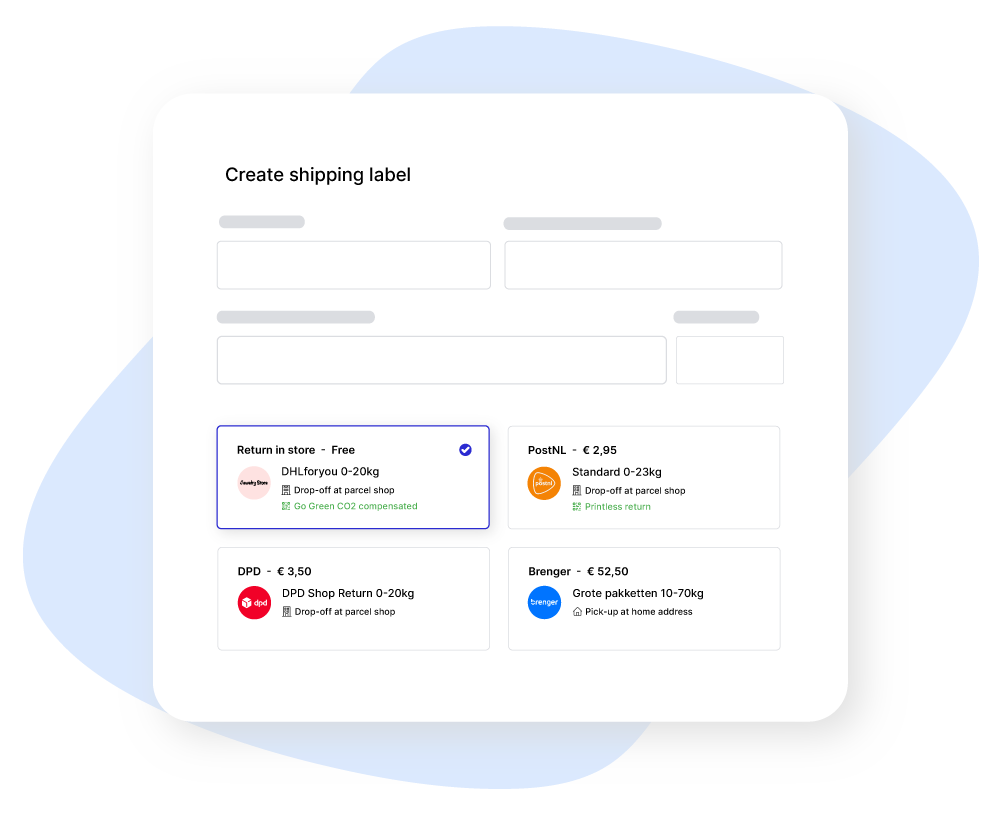 easy shipping.
Easy & affordable shipping options for every type of parcel.
Whether you are sending small mailbox parcels or large parcels. We have a suitable shipping method for every type of return. If you prefer, you are also able to upload your own negotioted contract rates.
Customers receive status updates automatically and can easily track & trace their return anytime in our portal. Giving them realtime insights into the whereabouts about their return parcel, giving your customer service department a break with less inquiries about returns.
return analytics.
Turn guesswork in hard facts.
In fashion return percentages are the highest of all industries with an average of 40%. All the more reason to find out exactly why products are returned. With return data insights, you have powerful tools to address the pain points in your assortment and make targeted adjustments. Such as reviewing your listings, updating photography, size charts or talk to your suppliers.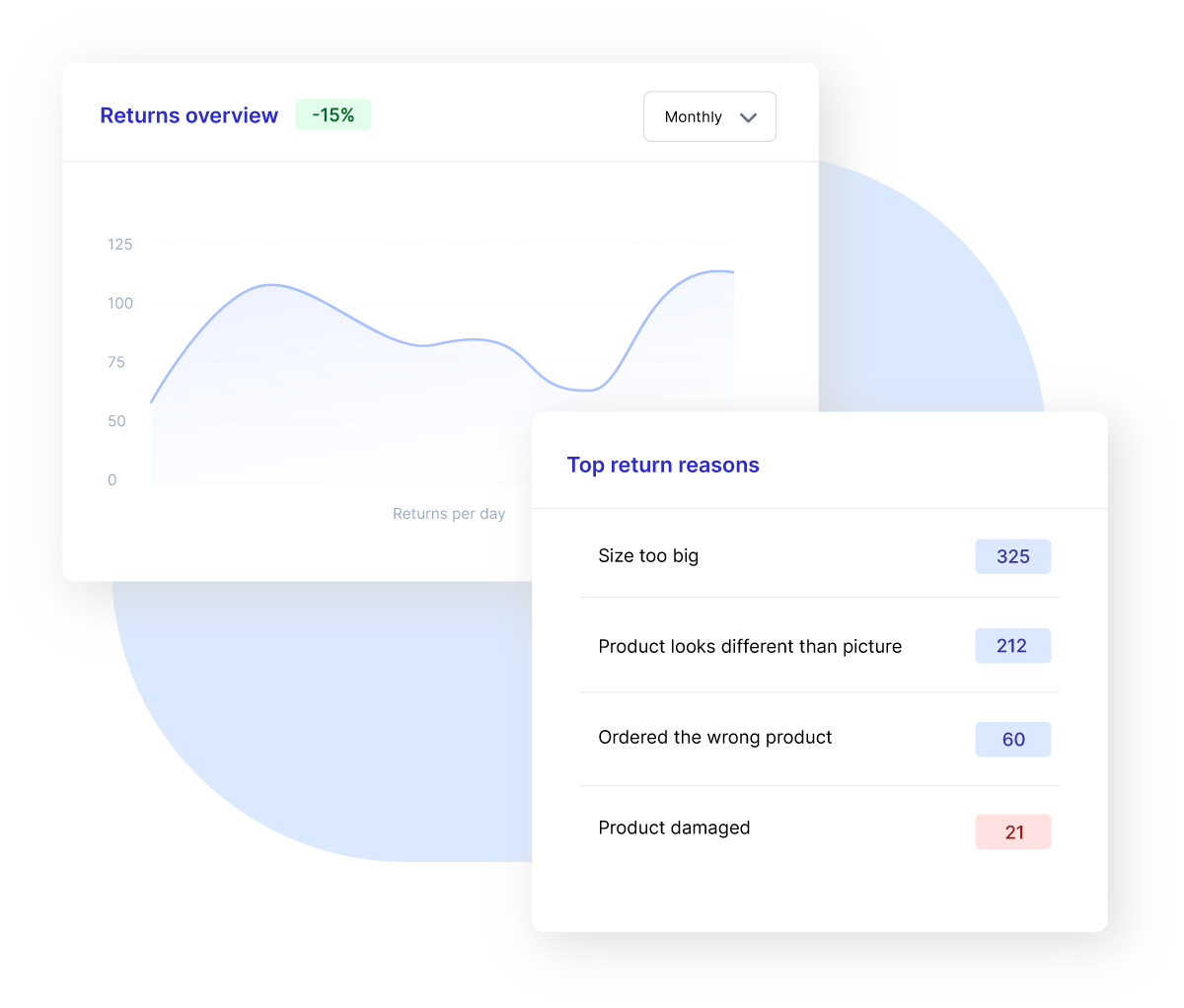 customer stories.
Check out what our customers in similar industries say:

"Within 2 weeks we we're able to reduce the number of return questions to 0!"
Stef Habraken,


FLANEUR HOMME

"Processing returns used to take 5 minutes - Now we're handling returns in seconds."

Jorden Jansen,


MALELIONS

"Our returns are handled automatically. Relieving customer's worries and also creates scalability."

Jimmy Joosten,


JUMBO SPORTS

"30% of our customers choose a coupon instead of a refund. Even during peak season!"

Jorden Jansen,


MALELIONS

PLAN DEMO
Want to see Returnless in action? We love to give you a tour through our platform. Plan a 15-min demo with one of our colleagues and we will show you all in's & out's.
PLAN DEMO

CREATE FREE ACCOUNT
Experience our platform yourself by creating a free account. You can set-up and test out a return form in your branding, and check out all our features first hand.
CREATE ACCOUNT