All returns from each carrier in one overview.
Simply connect Brenger to Returnless for a smooth return process. The Brenger platform ensures that the transport of large items such as furniture can be arranged quickly and easily. We provide you with a smart return form in your webshops' branding. All return requests, from any carrier, are collected in your own custom return portal.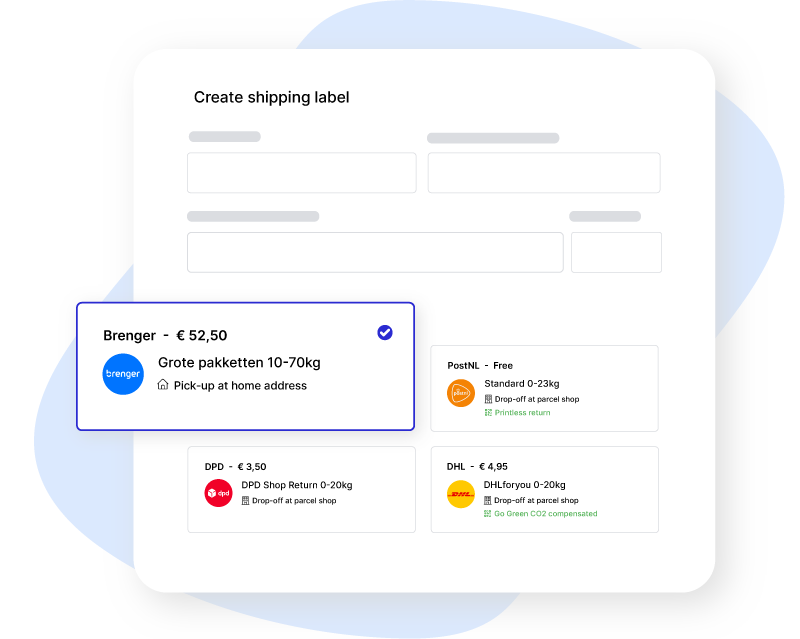 Brenger returns.
Transport for large parcels. Easily and quickly arranged.
Through our collaboration with Brenger you benefit from:
A sustainable carrier 🌱 that combines rides in an innovative way and fills vans optimally.
Automatic registration of transports. With Brenger, the transport is quickly booked and carried out by a courier. The courier can pick up the return within 60 hours and with the integration of Returnless and Brenger, the transports are automatically booked/scheduled.
No transhipment and less risk of damage to your products. Deliveries always take place via Brenger, without transhipment or distribution centre in between routes. This way you have less chance of damage to your items.

Return costs. You can decide whether a return is free or whether the consumer pays (partly) for it.
proactive real-time status updates.
More insight, for you and your customers.
We provide a track & trace together with Brenger with which the transport can be followed closely by you and your customers.

Whether your customers choose to return via Brenger or via another carrier, with Returnless you can see exactly who, what, where and when of each shipment.

In the returns portal, you and your colleagues can see the exact status of each return. Automatic real-time shipping status notifications keep customers informed and prevent questions from your customers about your shipments. This way your customers are better served and you have fewer phone calls.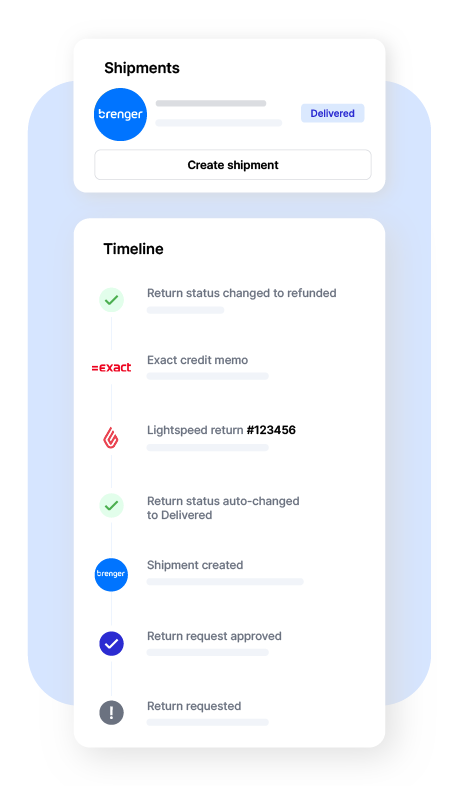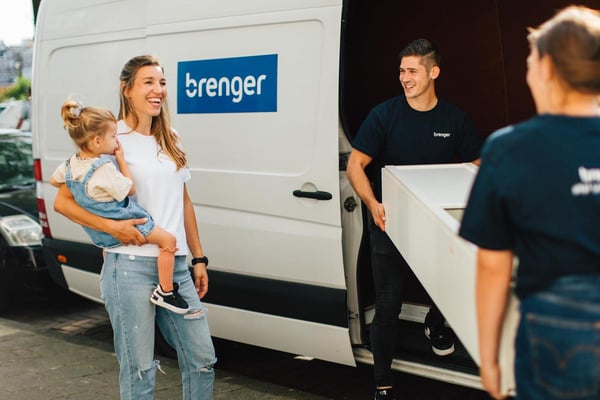 large parcels?
no problem.
Smart technology for efficient transport.
Does your webshop sell large products? Then there is a good chance that you will have to work with special carriers to ship these goods, or maybe you arrange couriers yourself.

With Brenger you use smart technology for efficient transport. The Brenger platform ensures that the transport of large items such as furniture can be arranged quickly and easily. By making smart use of a network of couriers, Brenger links transports to empty spaces in the courier vans. This way, a suitable courier can be found for every transport, and transport orders can be carried out within a few days.
professional couriers.
A suitable courier for every transport question.
Thanks to the growing network of more than 1000 connected couriers and the smart technology of Brenger, they are able to find a suitable courier for all transport questions. To guarantee the quality of delivery, Brenger first screens all couriers. For example, they set requirements for specific equipment that must be present in the delivery van. Think of straps, moving blankets and the like. In addition, Brenger couriers are assessed after each transport on the quality of the service and not on the number of deliveries.


PLAN DEMO
Want to see Returnless in action? We love to give you a tour through our platform. Plan a 15-min demo with one of our colleagues and we will show you all in's & out's.
PLAN DEMO

CREATE FREE ACCOUNT
Experience our platform yourself by creating a free account. You can set-up and test out a return form in your branding, and check out all our features first hand.
CREATE ACCOUNT