Manage and handle Magento 2 returns in one overview.
Connect your Magento 2 webshop to Returnless and easily manage returns. With the Magento 2 RMA extension you have real-time insights into your return data. This way you have the tools at hand to optimize the performance of your catalog.
Magento 2 returns.
Fix your returns with our Magento 2 RMA module!
With the Returnless returns platform you easily implement a return process to your Magento 2 CMS. Customers enter an order number and email address so that the order can be loaded in real-time from Magento 2.

By clever use of Return Rules we can stop and prevent unnecessary returns. For example returns outside the return period of 14 days, or damaged products. With Return Rules you have the ability to pre-approve returns.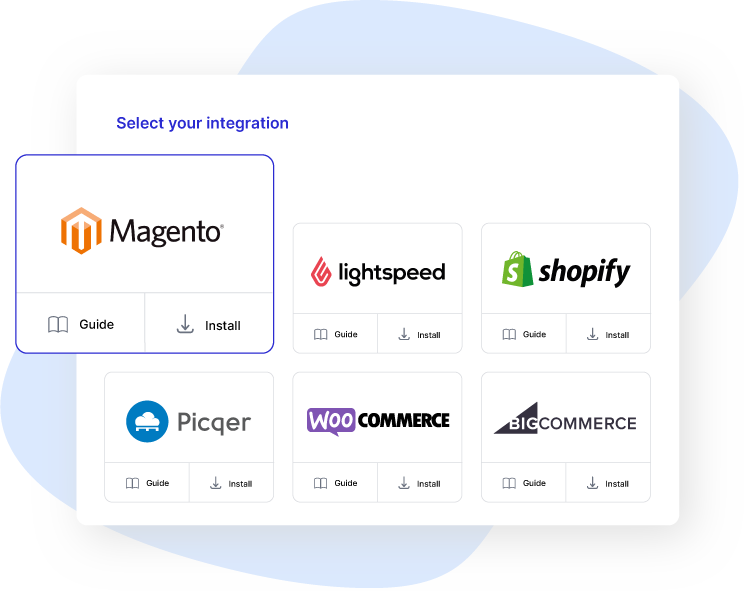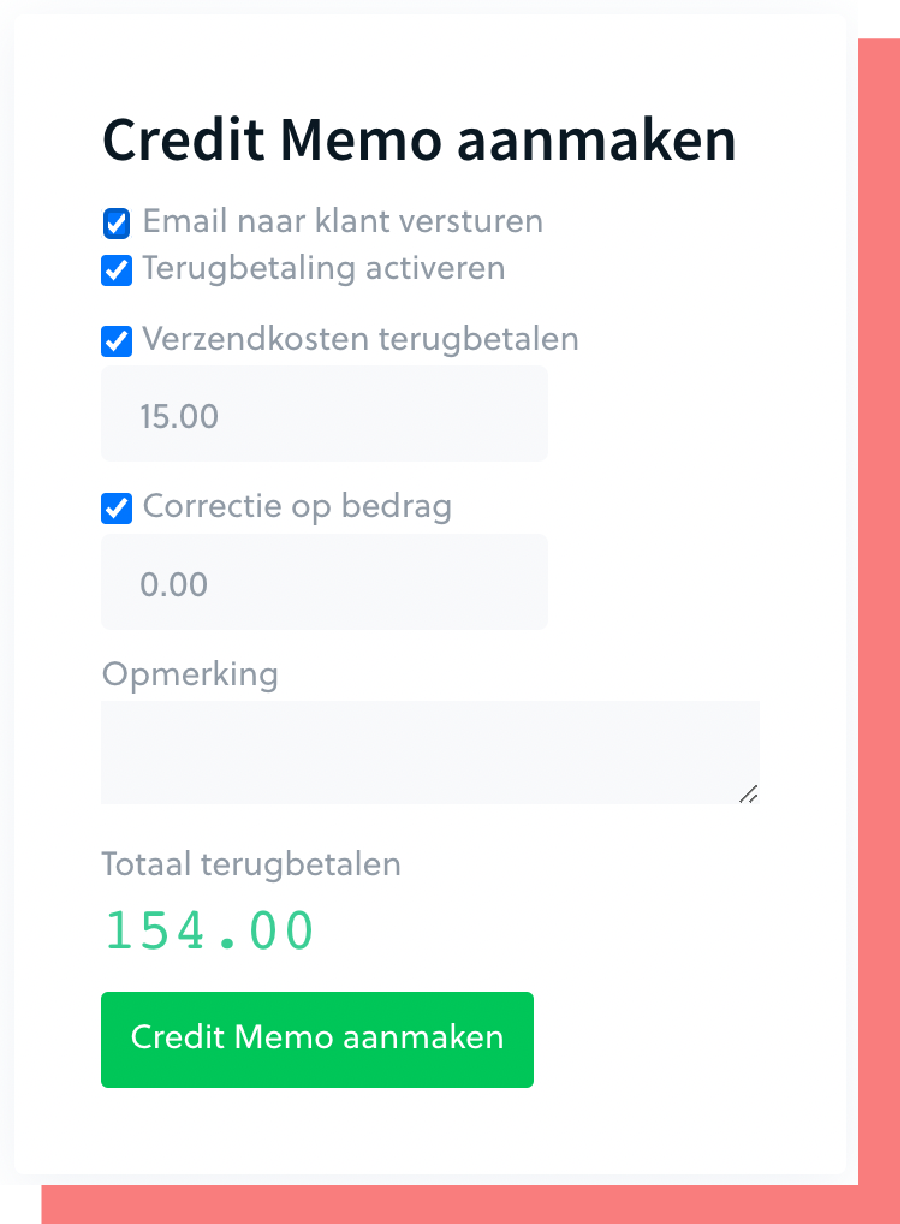 create credit memos in Magento 2.
Easily create credit memos and refund directly from the Returnless portal!
Within Returnless you handle, credit and manage returns way faster.
Create Credit Memos directly from the Returnless returns portal! If your Payment Provider has a refund option in the Magento extension, it is also possible to directly refund the consumer.
keep your revenue, offer store credit.
Automatically generate coupon codes for Magento 2.
Offer store credit directly in your Magento 2 return form. Instead of a refund, a customer receives a coupon code that they can spend again in your webshop. This way you have a higher chance that your customer will return to your webstore. How you use coupons is up to you:
In addition to a refund, give a coupon as an additional option

Use coupons during certain periods, such as peak periods to stimulate revenue retention
Our data shows 30% of consumers choose coupons instead of a refund.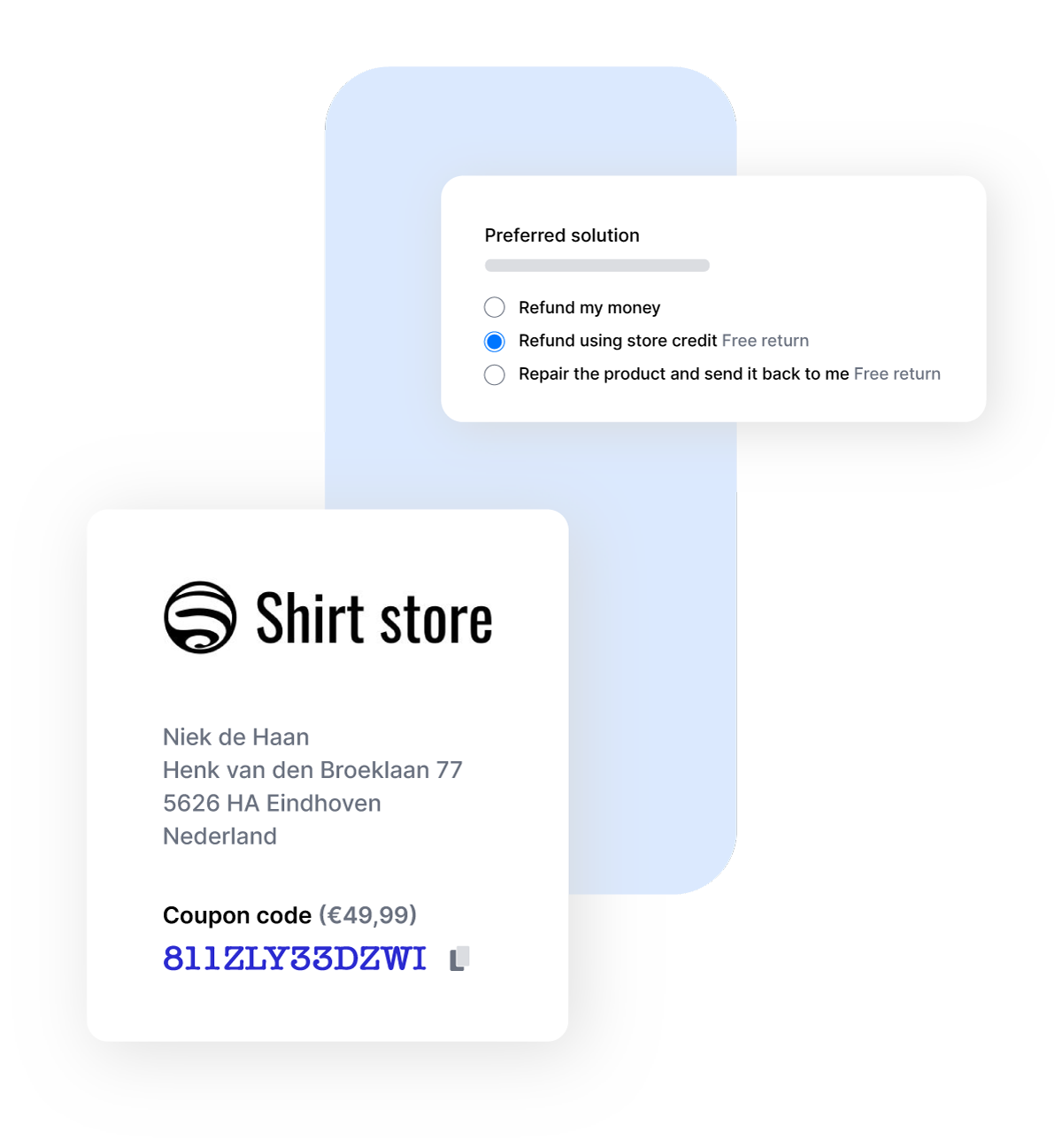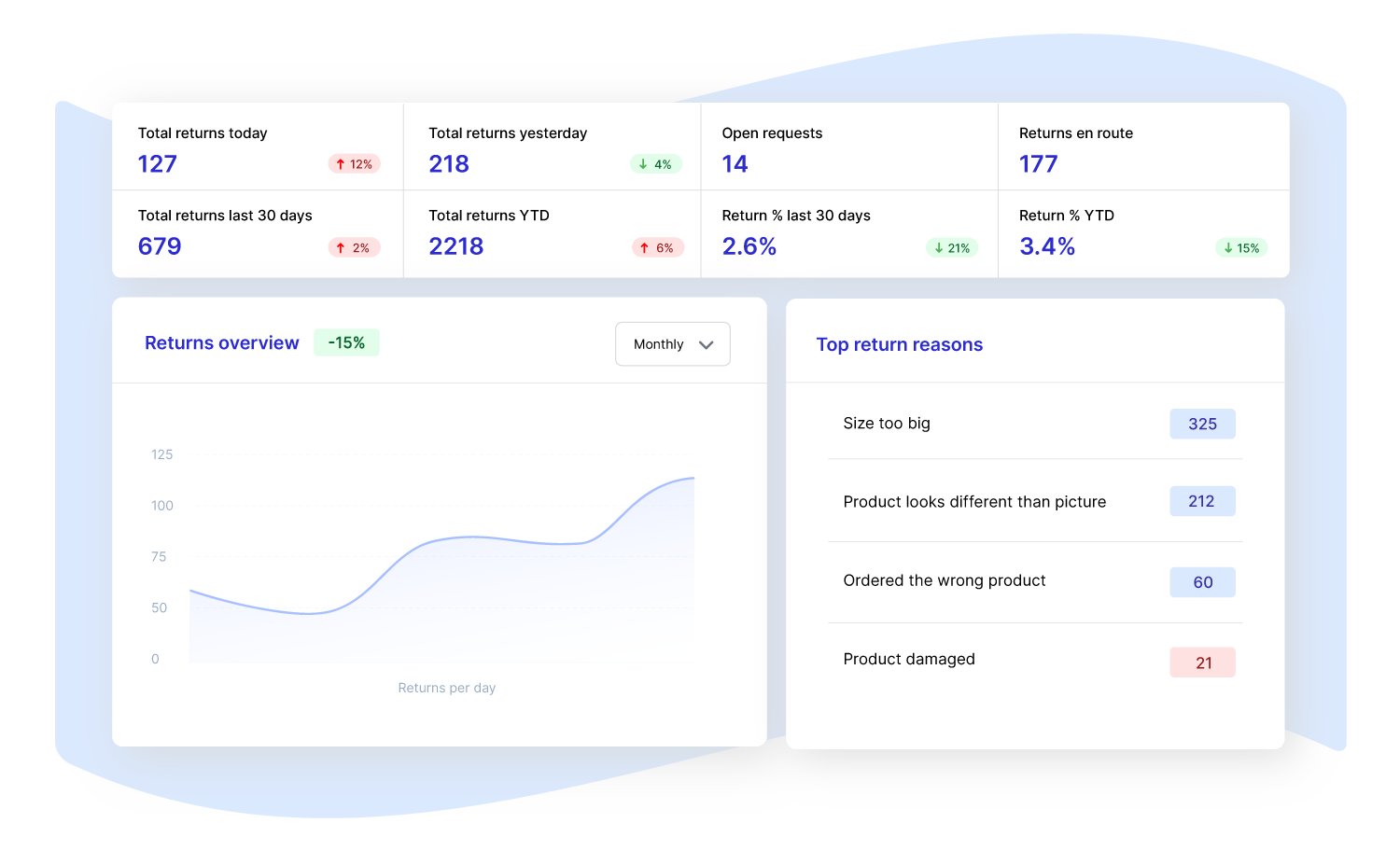 Magento 2 return analytics.
Track performance of your Magento 2 webshop with return analytics!
In our return form, the customer can specify a return reason for each product. We use this to collect valuable data at SKU level.

Create reports by comparing sales data from Magento 2 with the return data of Returnless. What is the return percentage, which products are returned the most, and why?
the ultimate return solution
for Magento 2.
From our experience in e-commerce we learned that the basic RMA extension from Magento 2 wasn't ticking the boxes for many Magento 2 webshops. Together with our customers we decided to build a custom return module, tailered to the needs of our Magento 2 customers. A few year later Returnless helps over 400+ webshops manage and handle returns faster and more efficient with a smooth return process. Don't believe us?
Check out what our users say:

"Gezien we overstapte van een concurrent en enige haast geboden was kan ik niks anders zeggen dat er is waar gemaakt wat er is beloofd. Communicatie lijnen waren kort en alles was snel opgetuigd om daadwerkelijk aan de slag te kunnen gaan."
Remco Nonnekes,
E-COM 2 GROUP

"We krijgen van onze Europese klanten geen retour vragen meer. Letterlijk, helemaal niks meer. Door Returnless hebben we binnen twee weken het aantal retour vragen naar 0 weten te krijgen."
Stef Habraken,
FLANEUR HOMME

"Wij zagen in onze web KPI's terug dat een omslachtig retourproces effect heeft op lange termijn loyaliteit van onze klanten. Wil je een klant voor de lange termijn aan je binden, dan moet de volledige klantreis in orde zijn, dus ook je retourproces."
Jimmy Joosten,
Jumbo Sports

"We hebben nu een betere retourervaring voor onze klant. We begeleiden onze klanten nu gemakkelijk naar het retourportaal, hebben overzicht wanneer iemand iets terug stuurt en een snellere manier om dit te verwerken."
Kim Gropstra,
CARE FOR SKIN
integration instructions.
Need help? We offer free technical support and help you with implementation.
Mail to developer@returnless.com.
Stap 1 - Install the Magento 2 Connector via composer.
For a successful connection, you need to install our Magento 2 extension first. The latest version is always posted on Github. Follow the steps in the readme to install the extension:
https://github.com/Returnless-com/magento2

Step 2 - Activate the Returnless Connector.
Once the commando has been executed you can activate the module with the following commands:
php bin/magento module:enable Returnless_Connector
php bin/magento setup:upgrade
php bin/magento cache:clean
php -f bin/magento setup:static-content:deploy

Step 3 - Fill in API Key and start integration.
Once the installation is complete, you can login to your Magento 2 backend. Go to Stores > Configuration and click Connector API at the Returnless menu. Fill in the following details:
Enabled: Yes
Integration API: The API Key that you can generate via the returns portal. Choose in the menu for

Return form

and select the correct return form. At

Webshop integrations

you can set platform Magento 2 and generate an API Key after saving.

EAN Attribute Code:Do you have a product attribute where you enter the EAN number? Enter the attribute code here. We will then add these to your data reports.
Save the configuration.

PLAN DEMO
Want to see Returnless in action? We love to give you a tour through our platform. Plan a 15-min demo with one of our colleagues and we will show you all in's & out's.
PLAN DEMO

CUSTOM RETURN FORM
See for yourself? Sure! You can experience the return process first hand from a consumers point of view. You can request a custom return form in your branding below.
REQUEST RETURN FORM