30% less returns, even during peak season.
Review our success story with Malelions. A fast growing Dutch clothing fashion brand for men and women. Hear about their obstacles in terms of returns and how Returnless helped them succeed with a smooth return process.
Malelions started working with Returnless in May of 2022. Success story told by Jorden Jansen, B2B Manager at Malelions.
✅
Fully digital return process
✅
30% less returns & refunds
✅
Return handling from 5 minutes to 30 seconds
✅
More insight in return data
short intro.
Malelions is a lifestyle fashion brand that originated in the Netherlands. The brand was founded on the 1st of January 2019. Malelions is known for its mid/high-end fashion and accessories for men, women, and kids. Malelions is the fastest growing brand in its segment and currently consists of four brands: Malelions Men, Malelions Women, Malelions Sport & Malelions Junior.
Malelions originated as a webshop but nowadays also sells across the world in more than 250 physical shops.


Return challenges:
❌ Return handling takes long
❌ Manual process with lots of paperwork
❌ No insights into why products are returned
❌ Revenue loss due to increasing number of refunds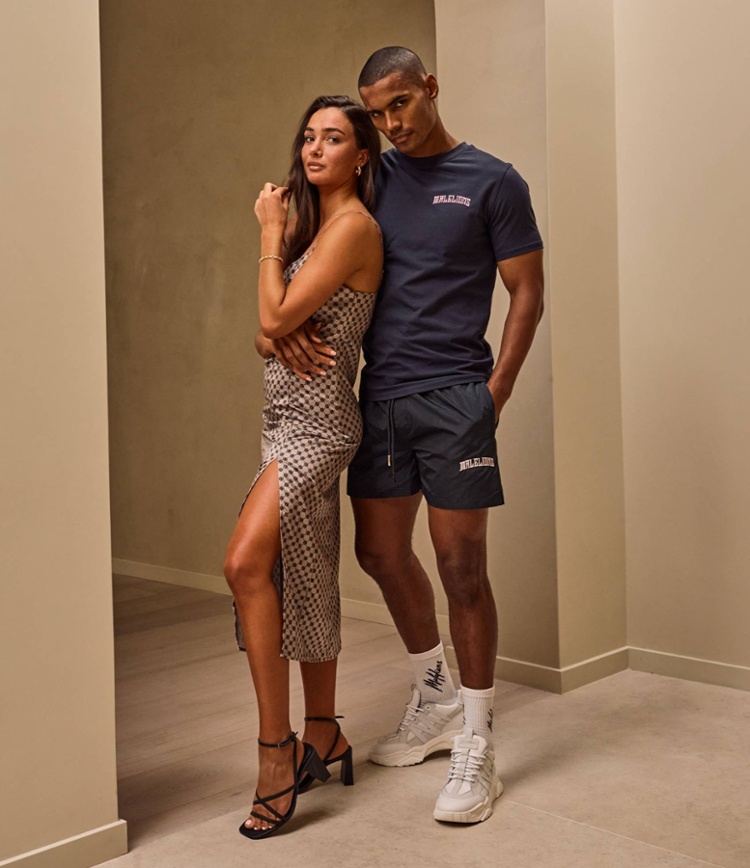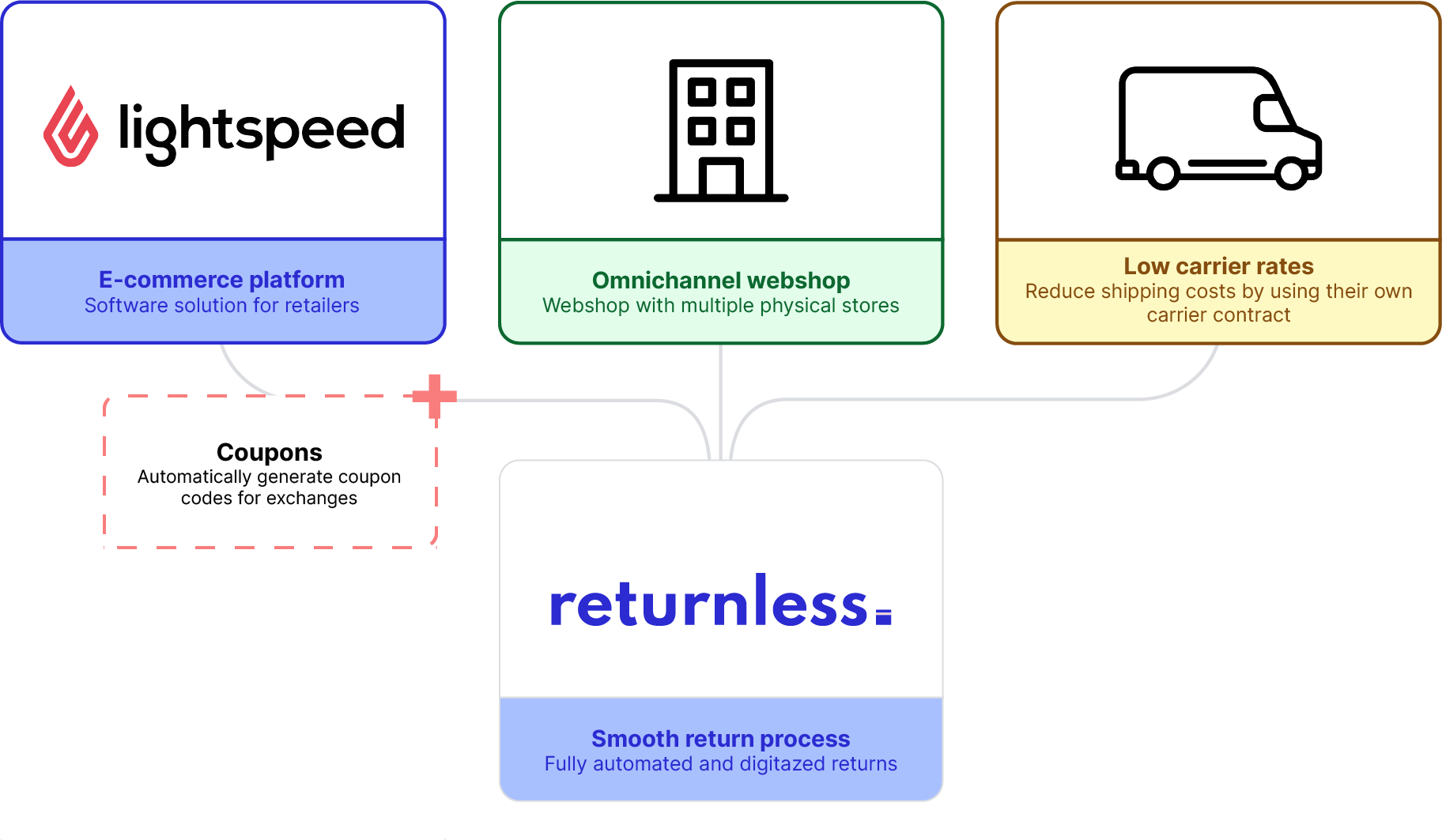 the success story of malelions.
Told by Jorden Jansen, B2b Manager at Malelions.
Winners never quit, and quitters never win. Guided by this powerful vision, Malelions has rapidly emerged as one of the fastest growing fashion brands in its industry. Needless to say: Never quitting, paid off.
As the brand flourished, the volume of returns grew, posing a new challenge. Dealing with returns became a time-intensive task, with an average processing time of 5 minutes per return. The main culprit behind this delay was the reliance on manual processes.
Previously, Malelions relied on printed return forms (see example on the left), requiring customers to manually complete the necessary information. Regrettably, many customers neglected to fill out these forms, and even when they did, the forms often ended up discarded, because filling out the information simply costs way too much time.
"We used to receive all return info on a piece of paper...
And that was thrown straight into the bin."
Recognizing the need for change, Malelions, a dynamic and forward-thinking company, understood the pivotal role that data played in their growth strategy. With a winning mindset, they embarked on a mission to revamp their return process while seeking a tool that could offer invaluable insights. It was during this quest that they discovered Returnless, and their visions instantly aligned. Thus, in May 2022, Malelions officially forged a partnership with Returnless.
The onboarding process with Returnless was seamless, enabling Malelions to go live with the platform within a mere month. One of the initial focal points was optimizing their return process.
"Return handling used to take up much of our time...
Way too much time."


By utilizing Returnless' intuitive return form, Malelions empowered their customers to register returns digitally, providing all the necessary information for smooth handling. Once all the details are filled out customers are able to download a shipping label. This streamlined approach not only ensured the capture of vital data but also made it virtually impossible for their customers to overlook any pertinent details.
Furthermore, Malelions leveraged the power of Returnless to handle and manage complaints, augmenting their control over this crucial process. Through automation and tailored solutions for frequently encountered complaints, Malelions aimed to enhance customer satisfaction while increasing operational efficiency.
With the Returnless platform serving as a centralized hub for all collected information, Malelions gained valuable insights through return analytics that fueled optimization efforts for their webshop, marketing initiatives, and future collections.
To further streamline operations, Returnless empowered Malelions to implement return rules within the return form. This intelligent feature automatically rejected unwanted returns, such as those submitted after the expiration of the return period. As a result, handling returns transformed from a laborious manual task into an automated workflow, often requiring only a final check.
"On average 30% of our customers prefer an exchange via a coupon code instead of a refund, even during peak season."
One of the most notable challenges overcome by Malelions was a reduction in the number of returns. Returnless played a pivotal role in achieving this feat through its innovative coupon feature. By offering customers a coupon code equivalent to the value of their initial purchase, Malelions effectively transformed returns into exchanges, preserving revenue. The success of this approach became evident as an impressive 30% of Malelions' customers opted for exchanges via coupon codes instead of refunds. This remarkable retention of revenue even during peak seasons solidified the effectiveness of this strategy.
"
Customers often purchase items on sale and later utilize their coupon code to buy something from the new collection at a later time.

"

Malelions' partnership with Returnless has been nothing short of transformative. Together, they have revolutionized the return process, enhanced customer satisfaction, and maximized revenue retention. As Malelions continues to soar to new heights, their collaboration with Returnless remains a cornerstone of their success story.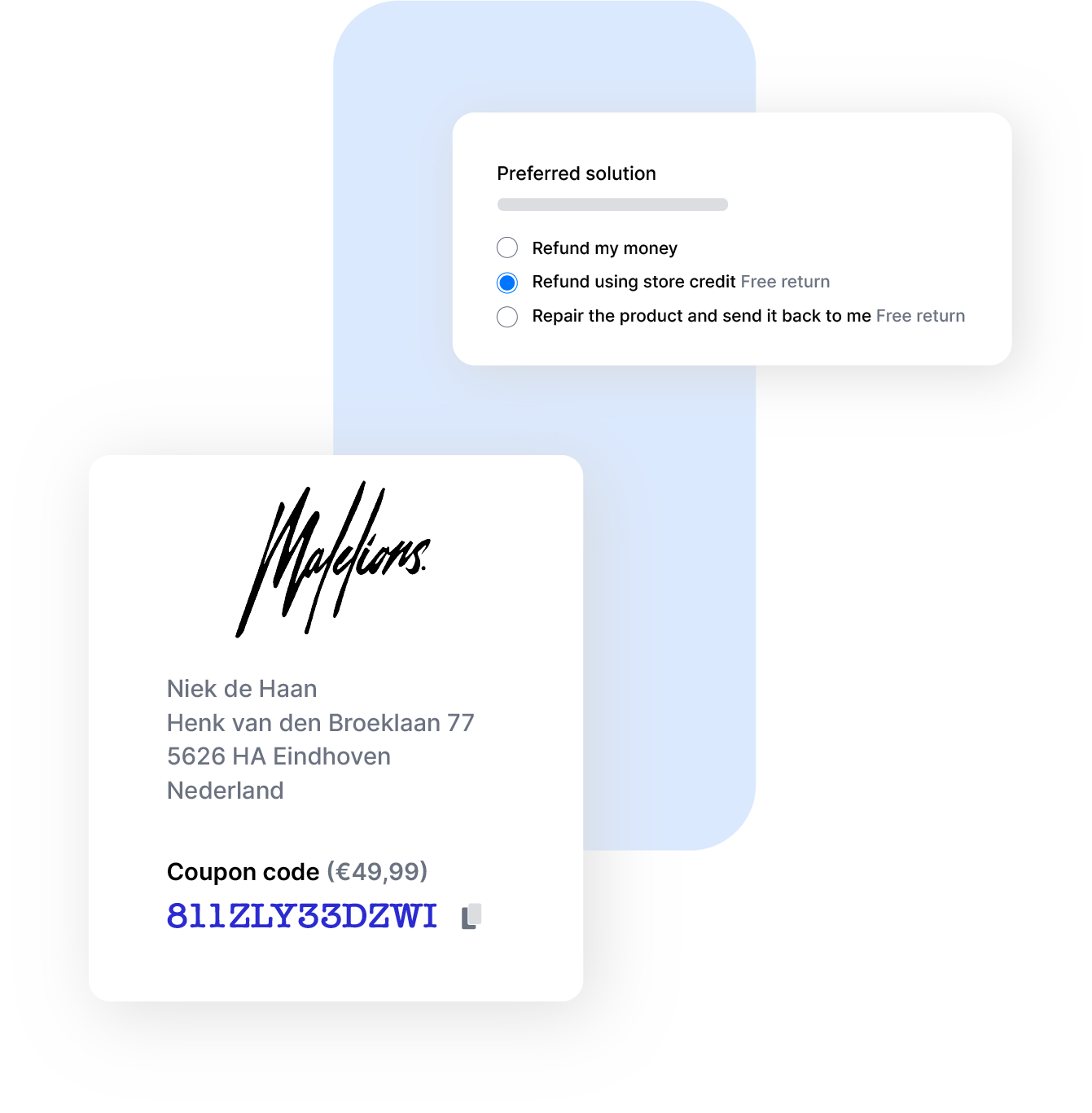 "Since we switched from a competitor and some haste was required, I can only say that what was promised has been fulfilled. Communication lines were short and everything was quickly set up to actually get started."
Remco Nonnekes,
E-COM 2 GROUP

"We no longer receive any return related questions from our European customers. Literally, nothing at all. Thanks to Returnless, we managed to get the number of return questions to 0 within two weeks."

Stef Habraken,
FLANEUR HOMME

"Our KPIs pointed out that a difficult returns process had an effect on the long-term loyalty of our customers. To gain loyal customers for the long term, the entire customer journey must be in order, including your returns process."
Jimmy Joosten,
Jumbo Sports

"We now have a better return experience for our customers. With Returnless we can easily guide our customers to the returns portal, and have an overview of all returns and a faster way to process these."

Kim Gropstra,
CARE FOR SKIN

PLAN DEMO
Want to see Returnless in action? We love to give you a tour through our platform. Plan a 15-min demo with one of our colleagues and we will show you all in's & out's.
PLAN DEMO

CREATE FREE ACCOUNT
Experience our platform yourself by creating a free account. You can set-up and test out a return form in your branding, and check out all our features first hand.
CREATE ACCOUNT